PROCESSING TIME
All the Paintings are made to order, the processing time will take 2 to 3 weeks ( Working days ) depending upon the size.Balaji Tanjore Art Gallery will ensure that the products are delivered in excellent condition and in the fastest time possible. Most of the items are shipped for free.

PAN INDIA FREE SURFACE SHIPPING ( NOT APPLICABLE FOR INTERNATIONAL SHIPPING )

CASH ON DELIVERY: You can choose the Cash-on-Delivery (COD) mode of payment and pay for your order only when you actually receive it. COD is provided though our logistic partners in the selected cities only.

*COD Not Available For Purchases More Than Rs. 8500/-
CASH ON DELIVERY ( NOT APPLICABLE FOR INTERNATIONAL SHIPPING )


Shipping Time INDIA:
Zone A: Within Chennai - 2 days
Zone B: Within Same state – 3 days
Zone C: Metro to Metro – 3-4 days
Zone D: Rest of India – 4-5 days
Zone E: North east & Jammu and Kashmir – 6-7 day
Rest of the world : 2 - 5 days
For
International shipping
the charges are calculated after packing the product. We will intimate you with the shipping charges once painting is packed. Payment can be made separately for Shipping charges.
INTERNATIONAL SHIPPING COST & CALCULATION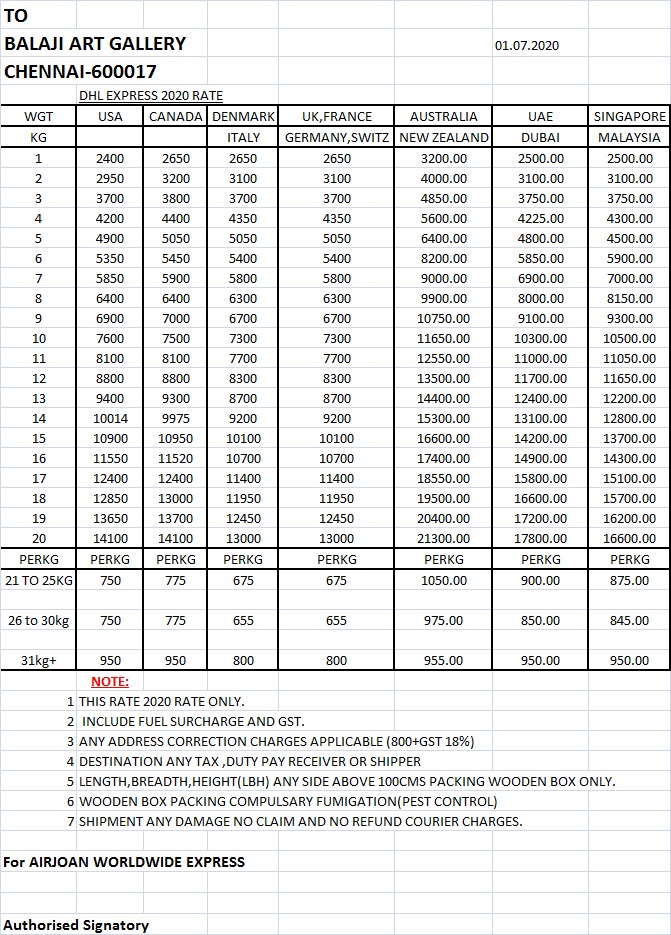 International Shipping Charges
The above estimates are based on approximation. The transport costs for your shipments are calculated on the basis of the total weight. A decisive factor for calculating the price, however, is whether the dimensional weight exceeds the actual weight.
Shipments where dimensional weight exceeds actual weight are charged according to the following volumetric calculation: Dimensional weight in kg per package = Length x Height x Width in cm / 5,000.
Import Duty
We don't have any control over import duty, and we cannot able to tell how much customs officer will charge you. It purely depends on the country and their customs policy. Customers only need to pay the customs Duty for their products.